Custom Flex Feeders from Bellco Feeders
Bellco Feeders' flexible feeding solutions supply parts to an industrial vision-guided robot. With its backlit tray and three-axis vibration technology, our flex feeder provides an enhanced user experience. This technology efficiently moves components in various directions across the surface, ensuring their random scattering.

When the vision system notifies the flex feeder that there are not enough pickable parts on the surface, the hopper and flex feeder will turn on, gently shaking the components again to reorganize them.

We can configure bulk part hoppers that provide a continuous flow of material to the vibrating tray and minimize operator interaction.
Some benefits of our flexible feeding system are:

Quiet and gentle operation
Programmable vibration sequences with

3-axis vibrating technology to move parts in all directions

Highly adaptable and easily customized - possible to supply a complete range of parts
Suitable for parts that have unique geometries
Ideal for restoration projects
With a compact design that optimizes the operator's time and floor space
Optional backlit pick area to pair with vision guided robotic applications

It is important to remember that flexible part feeders are not suitable for every automation system. Bellco Feeders will work with you to identify and implement the right part feeding system for your specific requirements.
Bellco

Flex Feeders

Standard Sizes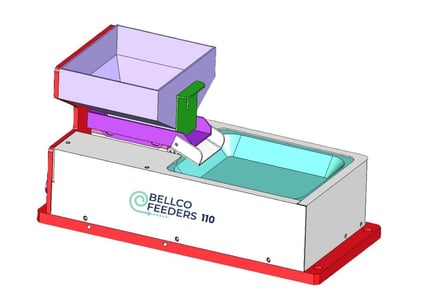 Pick Area: 130 x 104 mm (~5 x 4 inches)

Overall Dimensions: 370 x 169 mm (~14.5 x 6.6 inches)

Maximum Load: 0.8 kg (~1.7 lbs.)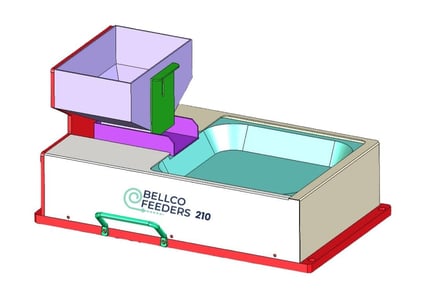 Pick Area: 196 x 208 mm (~7.7 x 8 inches)

Overall Dimensions: 470 x 270 mm (~18.15 x 10.6 inches)

Maximum Load: 1.4 kg (~3 lbs.)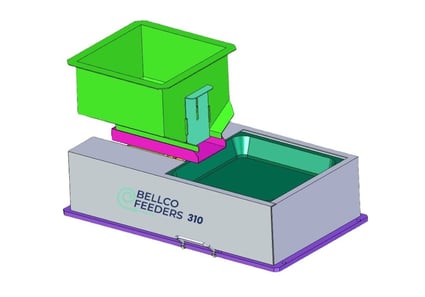 Pick Area: 280 x 330 mm (~11 x 12.9 inches)

Overall Dimensions: 700 x 400 mm (~27 x 16 inches)

Maximum Load: 2.0 kg (~4.4 lbs.)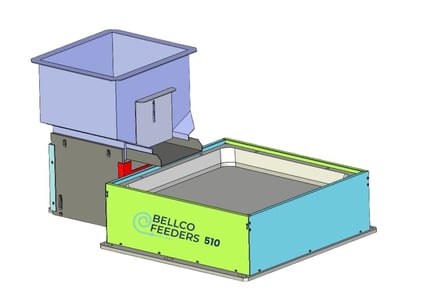 Pick Area: 440 x 440 mm (~17.3 x 17.3 inches)

Overall Dimensions: 750 x 580 mm (~29.5 x 22.8 inches)

Maximum Load: 3.0 kg (~6.6 lbs.)
Designed for Simple

Robotic Integration
Our flex feeders integrate easily with your vision-guided, pick-and-place robot applications. The parts can then be placed into the automation equipment directly. You can use our solutions with multiple types of robots, including a vision guided 6-axis or SCARA robot.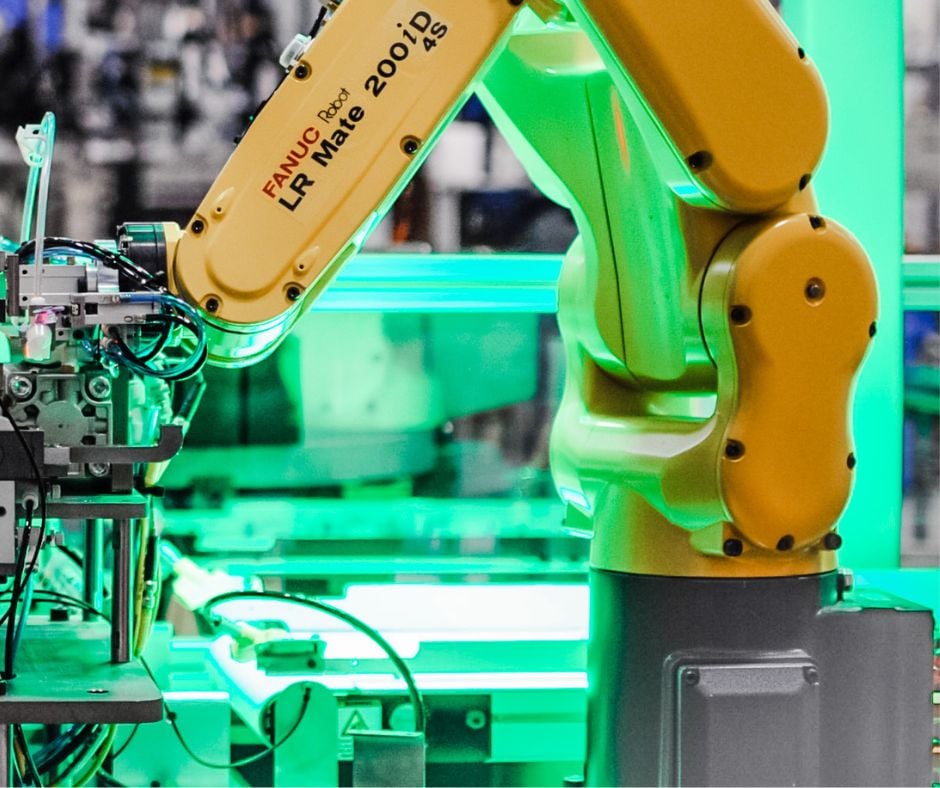 Frequently Asked

Questions
Can I buy a robot with my Flex Feeder from Bellco?
Our Flex Feeders are designed to integrate with robot applications however, we do not sell them as a robotic package.
Do you stock replacement parts?
Yes, we do. All of our feeding systems are delivered with a full Bill of Material (BOM), and a recommended spare parts list. Any spare parts for your systems can be purchased through Bellco.
How can I schedule service?
Great question, we support our systems wherever they end up. Send us an email to
info@bellcofeeders.com
or fill out the contact form on our website and a Bellco team member will be in touch soon.
We understand the importance of quality components, competitive pricing and on-time deliveries. Our team is available to answer your questions and provide a quote for your custom parts feeding solutions.